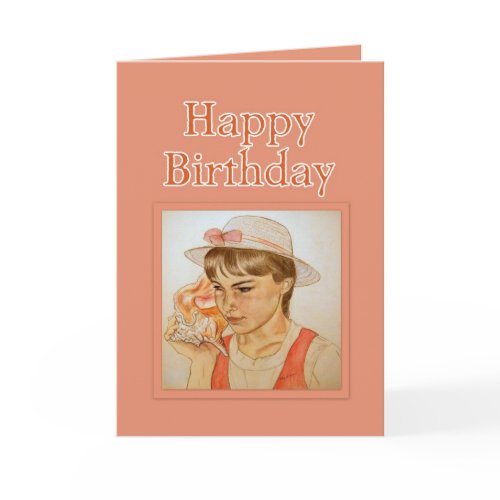 As a girl growing up in land-locked Kansas, I was fascinated by sea shells. I read books about the varieties of sea shells, bought shells when I could and collected the few freshwater clam shells that I found. Looking at photographs of these beautiful creatures from the sea introduced me to an exotic, beautiful world. As soon as I could, I visited beaches to collect my own. Some of my best specimens, I have to admit, I bought in shell shops, such as the conch shell my daughter is holding in my painting in the Happy Birthday card shown above. Most of the shells I've collected are small, and I arrange them in small jars with a little sand to give as gifts to other shell-lovers and beach goers. You can enjoy the beach year-round!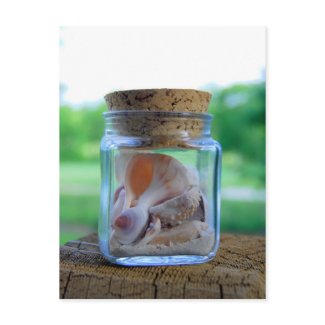 Greeting cards are another way to share sunshine, sand and sea shells. I'm among scores of Beach-lovers and Sea Shell Admirers who design cards using sea shell art and photographs at Greeting Card Universe.
Here are birthday cards featuring shells and shell collecting, left to right, by Robin's Coloring Book, Catherine Sherman, Leslie Stones, Sun at Night Studios and Catherine Sherman.




Here are cards featuring shells for other occasions. From the left, are Father's Day card by Featured Art of M.A. Nolan, Gifts of the Sea blank note card by Christian Slanec, Say it With Shells Love card by Jamie J. Rice; and Thank You for the Wedding Gift by Sheryl Kasper.




Here are charming Christmas and holiday cards featuring shell motifs. From the left are Shellebrate Christmas by Corrie Kuipers, Christmas Tree on the Beach by Elaine Presser, Turtle and Shells Season's Greetings by Dinah Green, Holiday Shellebration invitation by Corrie Kuipers; and Santa on Holiday by Martha Dryfhout.





Here are links to Blog Posts of other Greeting Card Universe artists who are featuring beach and shell-related cards:
Seashells, Gifts From the Sea
"As a girl growing up in land-locked Kansas, I was fascinated by sea shells…"
It's a Beautiful World
, Catherine Sherman
Natural Seashells in Art
"One of the most commonly found raw materials for artists and crafters is the seashell…"
Sun at Night Studios
, Sun at Night
Oh How the Sea Calls to Me!
"As a kid, I was lucky enough to spend a fair amount of my summer on road trips…"
Salon of Art
, Doreen Erhardt
Tiny Treasures From the Sea

"I spoke in previous posts about how blessed I have been to have grown up near the coast…"
What Dreams May Come
, Maryann Nolan
Sandy Vacations
"Summer is here and it's time to play!"
Janet Lee Designs
, Janet Palaggi
Summer's Too Much Fun to Just Sit on the Beach
"Summer is long in Australia. We are completely surrounded by water…"
Red Rose Digital Art
, Rosanne
Thinking of the Beach
"Well, we had a couple of days of 90+ degrees…"
Shelley's Card Creations
, Shelley McLeod
Silent Movie Stars Visit the Beach
"While looking for a bathing beauties picture…"
Dragonfire Graphics
, Betsy Bush
Get to Know the Artist
"Summer in So Cal is usually great…"
Reel Cards
, R.P. Bulanadi
Seashell by the Seashore
"Being able to spend time on the beach is definitely one of my favorite Summer Delights..."
Painted Cottage
, Judith Cheng
Seashells
" One of nature's wonders is the seashell…"
Naquiaya's Cards
, Naquaiya
When I Think of Summer
"When I think of summer, I think of the beach..."
Rycky Creations
, Robin Chaffin