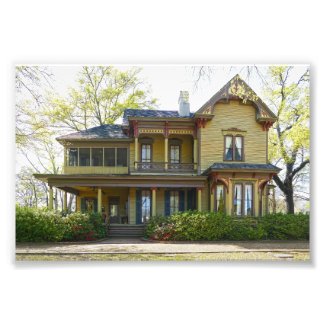 Historic Bonner-Whitaker-McClendon House, Tyler Photo Print
by
catherinesherman
"The Historic Bonner-Whitaker-McClendon House, Tyler, Texas" by Catherine Sherman.
Azaleas surround the Bonner-Whitaker-McClendon House, built in 1878.
This beautiful house was designated as a Tyler Historic Landmark in 1984 and is also a Recorded Texas Historic Landmark and on the National Register of Historic Places. Judge M. H. Bonner, a Texas Supreme Court Associate Justice, bought land from the estate of his former law partner, Texas' first governor, J. Pinckney Henderson, and than gave two acres to his oldest daughter Mattie, when she married attorney Harrison Whitaker.
The newlyweds built their house in 1878, furnishing it with fireplaces mantles, light fixtures, wallpaper and much of their furniture from a shopping trip to New York. The Whitakers presided over dinners and parties as a center of Tyler society. After Mattie died, the house was sold to Mattie's younger sister Annie and her husband Sidney McClendon.
The McClendons had nine children, the youngest of whom was Sarah, who became a noted Washington, D.C. journalist. Sarah was born in the house in 1910. McClendon graduated from Tyler Junior College in 1928, and from the University of Missouri's School of Journalism in 1931. She worked for newspapers in Texas, then enlisted in the Women's Army Auxililiary Corps, and reported for duty in September, 1942. She was married while in the Army and had a daughter.
In June 1944, after McClendon's discharge from the Women's Army Corps, famed newspaperman Bascom N. Timmons hired McClendon as a Washington, D.C. correspondent for the Philadelphia Daily News. In 1946, when Timmons discharged McClendon to make room for reporters returning from service in World War II, McClendon started her own service, the McClendon News Service, which provided Washington dispatches and columns to member newspapers and personal subscribers.
After a divorce, now a single mother, McClendon often brought her young daughter to news conferences, where she covered presidential politics for more than half a century. She was a model for women in journalism and as a vocal advocate of various causes, particularly those of United States military veterans. McClendon was known for posing incisive questions at U.S. presidential press conferences.
Of the 76 homes or buildings listed in the Tyler Register of Historic Places, only two are available for tours: The Goodman-Le-Grand Home which is owned and operated as the Goodman Museum by the city of Tyler and the McClendon House, which is self-financed and self-sustaining